Eurozone
Eurozone
is the geographic area that uses the euro currency. The term
Eurozone
is a synonym to the informal terms "euroland", the "eurogroup", or the "euro area".
The euro is the single currency used in Austria, Belgium, Cyprus, Finland, France, Germany, Greece, Ireland, Italy, Luxembourg, Malta, the Netherlands, Portugal, Slovenia, Slovakia, and Spain. Slovenia joined the eurozone on 1 January 2007. Malta and Cyprus joined
eurozone
on 1 January 2008. Slovakia joined eurozone in 2009.
These 16 countries together are frequently referred to as the
Eurozone
.
Eurozone
When talking about the eurozone, people usually refer to the 15 (16) states, but technically there is more to
eurozone
than that.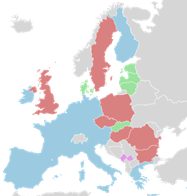 Outside of the area covered by the map, the
euro
is the legal currency of the French overseas possessions of French Guiana, Réunion, Saint-Pierre et Miquelon, Guadeloupe, Martinique, Saint-Barthélemy, Saint Martin, Mayotte, and the uninhabited Clipperton Island and the French Southern and Antarctic Lands. Euro is also used in the Portuguese autonomous regions of the Azores and Madeira. And, the eurozone includes also the Spanish Canary Islands.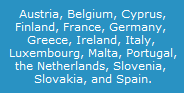 Although euro is not legal tender in Denmark and the United Kingdom, the euro is accepted in some stores throughout both countries. Euro is officially used in the Republic of Ireland, so you can find it being used in large cities near the border with the Republic of Ireland. Some people include even the UK and Denmark in the eurozone. Similarly, the euro is widely accepted in Switzerland.
Disclaimer: This web page is in no way, form or shape affiliated with any official or governmental organization. Even though we do our best to keep this web site current, information provided on this page may be out dated. Never use this/rely on any private web site to make your personal decisions or take actions. It is your responsibility to check with the appropriate authorities, government, or offices for the most current, relevant, and true information regarding your situation and/or actions. We can not provide any implied, expressed, direct, or indirect warranty or guarantee for information provided on this page, site, or server and for its accuracy and completeness.
Copyright © 2012 Euro Dollar Currency http://www.euro-dollar-currency.com
Reproduction without written permission from the owner of this site is prohibited.
All articles are protected by copyright and have been archived at a national library.
Linking to this page is permitted provided that the links are clearly acknowledged. Thank you.