EU Member States
European Union is comprised of
EU member states
. The European Union currently includes 27 EU member states. The European Union was not created by all the EU member states at once but in several waves.
The first wave of
EU member states
includes Belgium, Germany, Italy, France, Luxembourg and the Netherlands. These six EU member states joined the European Union from the very beginning.
In the next wave, Denmark, Ireland, and the United Kingdom were other EU member states that joined the six founding countries in 1973.
Greece joined these
EU member states
in 1981, followed by Portugal and Spain. Spain joined the EU member states in 1986. That brings our count of EU member states to 12.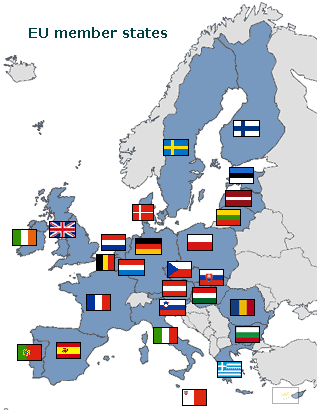 In the next step, Austria, Finland, and Sweden joined the previously mentioned twelve
EU member states
in 1995. That brings our count to 15.
On May 1, 2004, 10 more EU member states joined the European Union. These EU member states were the following: Czech Republic, Cyprus, Estonia, Latvia, Lithuania, Malta, Hungary, Poland, Slovenia, and Slovakia. This brings our count to 25. You can see these 25 EU member states displayed in the picture on the left.
On January 1, 2007, two more countries joined the existing
EU member states
: Bulgaria and Romania. This brings our EU member states count to
27
.
EU Member States
In addition to 27 current
EU member states
, there are a few EU candidate countries.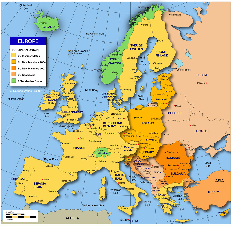 EU candidate countries are Croatia, the former Yugoslav Republic of Macedonia (FYROM), and Turkey. Accession negotiations with Croatia and Turkey have started in October 2005. Croatia has signed the official European Union accession treaty in December 2011 and is expected to become a new EU member state in 2013.
Albania, Bosnia and Herzegovina, Serbia, Montenegro, and Kosovo are potential candidate countries.
You can find links to EU member states below. These links point to government and other official institutions of the
EU member states
:
Belgium (B) - http://belgium.fgov.be
Bulgaria (BG) – http://www.government.bg
Czech Republic (CZ) – http://www.czech.cz
Denmark (DK) - http://www.sdn.dk
Germany (D) - http://www.bundesregierung.de
Estonia (EST) – http://www.riik.ee/et
Greece (EL) - http://www.mfa.gr
Spain (ES) - http://www.la-moncloa.es
France (F) - http://www.france.diplomatie.fr
Ireland (IRL) - http://www.irlgov.ie
Italy (IT) - http://www.aipa.it
Cyprus (CY) – http://www.pio.gov.cy
Latvia (LV) – http://www.am.gov.lv/lv
Lithuania (LT) – http://www.lrs.lt
Luxembourg (L) - http://www.restena.lu
Hungary (H) – http://www.meh.hu
Malta (M) – http://www.gov.mt
Netherlands (NL) - http://www.postbus51.nl
Austria (Ö) - http://www.austria.gv.at
Poland (PL) – http://www.poland.pl
Portugal (P) - http://www.portugal.gov.pt/Portal/EN/
Romania (RO) – http://www.guv.ro
Slovenia (SLO) – http://www.sigov.si
Slovakia (SK) – http://www.slovensko.com
Finland (SU) - http://www.vn.fi
Sweden (SV) - http://www.regeringen.se
United Kingdom (UK) - http://www.fco.gov.uk
Negotiations with Turkey to join the existing EU member states are in progress.
Do not confuse with
Schengen countries
and
Eurozone countries
.
Disclaimer: This web page is in no way, form or shape affiliated with any official or governmental organization. Even though we do our best to keep this web site current, information provided on this page may be out dated. Never use this/rely on any private web site to make your personal decisions or take actions. It is your responsibility to check with the appropriate authorities, government, or offices for the most current, relevant, and true information regarding your situation and/or actions. We can not provide any implied, expressed, direct, or indirect warranty or guarantee for information provided on this page, site, or server and for its accuracy and completeness.
Copyright © 2012 Euro Dollar Currency http://www.euro-dollar-currency.com
Reproduction without written permission from the owner of this site is prohibited.
All articles are protected by copyright and have been archived at a national library.
Linking to this page is permitted provided that the links are clearly acknowledged. Thank you.