European Economic Area
European Economic Area
or short EEA includes most countries in Europe. The European Economic Area was established on January 1, 1994. The
European Economic Area
is an expansion of the previous agreement between the member states of the European Free Trade Association (EFTA) and the European Community (later the European Union).
The following countries are members of the European Economic Area:
Austria
Belgium
Bulgaria [1]
Cyprus
Czech Republic [2]
Denmark
Estonia [2]
Finland
France
Germany
Greece
Hungary [2]
Iceland
Ireland
Italy
Latvia [2]
Liechtenstein
Lithuania [2]
Luxembourg
Malta
Netherlands
Norway
Poland [2]
Portugal
Romania [1]
Slovakia [2]
Slovenia [2]
Spain
Sweden
Switzerland [3]
United Kingdom
European Economic Area comments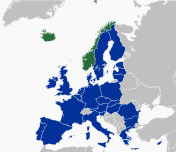 Green
= EFTA member countries
(except Switzerland)
Blue
= European Union member-states
(see here
EU member states
)
[1] Romanian and Bulgarian nationals intending to remain and work in the UK need permission to work before starting any job. More information is available at the UK Border Agency website.
[2] Nationals of these countries who come to reside and work in the UK need to register as Workers under the
Worker Registration Scheme
.
[3] Under the Immigration (EEA) Regulations 2006, Swiss nationals are included in the definition of "EEA nationals". Their family members are considered as if they were family members of EEA nationals.
More information about European Economic Area
You can find more information about the European Economic Area in the AGREEMENT ON THE EUROPEAN ECONOMIC AREA (OJ No L 1, 3.1.1994, p. 3). You are also welcome to discuss European Economic Area in this
discussion forum
.
Disclaimer: This web page is in no way, form or shape affiliated with any official or governmental organization. Even though we do our best to keep this web site current, information provided on this page may be out dated. Never use this or any other private web site to rely on your personal decisions or actions. It is your responsibility to check with the appropriate authorities, government, or offices for the most current information regarding your situation and/or actions. We can not provide any implied or expressed warranty for information provided on this page, site, or server.
Copyright © 2012 Euro Dollar Currency http://www.euro-dollar-currency.com
Reproduction without written permission from the owner of this site is prohibited.
All articles are protected by copyright and have been archived at a national library.
Linking to this page is permitted provided that the links are clearly acknowledged. Thank you.