Schengen visa image
Schengen visa is a necessary document that allows its holder to enter Schengen zone countries. This page provides a
Schengen visa image
. You are welcome to take a look at this image for reference purposes.
The
Schengen visa image
provided below shows you what a
Schengen visa
looks like. The
Schengen visa image
shown below includes the clause "ETATS SCHENGEN"; therefore, we know this Schengen visa is valid for entry to all
Schengen zone members
.
Schengen visa image
The Schengen visa image provided below shows visa from category C which is tourist visa. See here for more information about
Schengen visa categories
.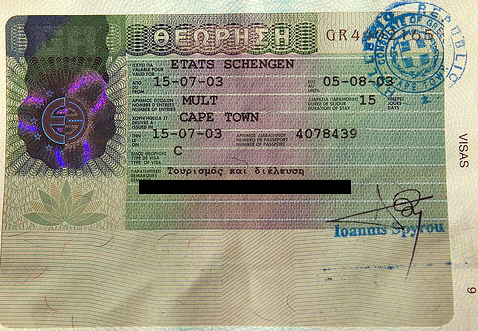 The word "MULT" in the Schengen visa image above means that this is so-called multiple entry visa which allows its holder to enter any state in the Schengen zone repeatedly.
See here for more details about
Etats Schengen
.
If you need more information about Schengen visa, take a look at our next page
Schengen visa
. You can find a number of links to other pages related to Schengen visa in the right-hand navigation menu.
Should you need more
Schengen visa image
, you can find another Schengen visa image on the next page called
Schengen visa picture
.
If you need more information about Schengen visa, this link might help as well:
Schengen visa
.
Good luck to you in case you are applying for Schengen visa.
Disclaimer: This web page is in no way, form or shape affiliated with any official or governmental organization. Even though we do our best to keep this web site current, information provided on this page may be out dated. Never use this/rely on any private web site to make your personal decisions or take actions. It is your responsibility to check with the appropriate authorities, government, or offices for the most current, relevant, and true information regarding your situation and/or actions. We can not provide any implied, expressed, direct, or indirect warranty or guarantee for information provided on this page, site, or server and for its accuracy and completeness.
Copyright © 2012 Euro Dollar Currency http://www.euro-dollar-currency.com
Reproduction without written permission from the owner of this site is prohibited.
All articles are protected by copyright and have been archived at a national library.
Linking to this page is permitted provided that the links are clearly acknowledged. Thank you.